Our Raviji's Little Champs Concept School is the place for your children to enjoy their childhood with education, games and other extra activities.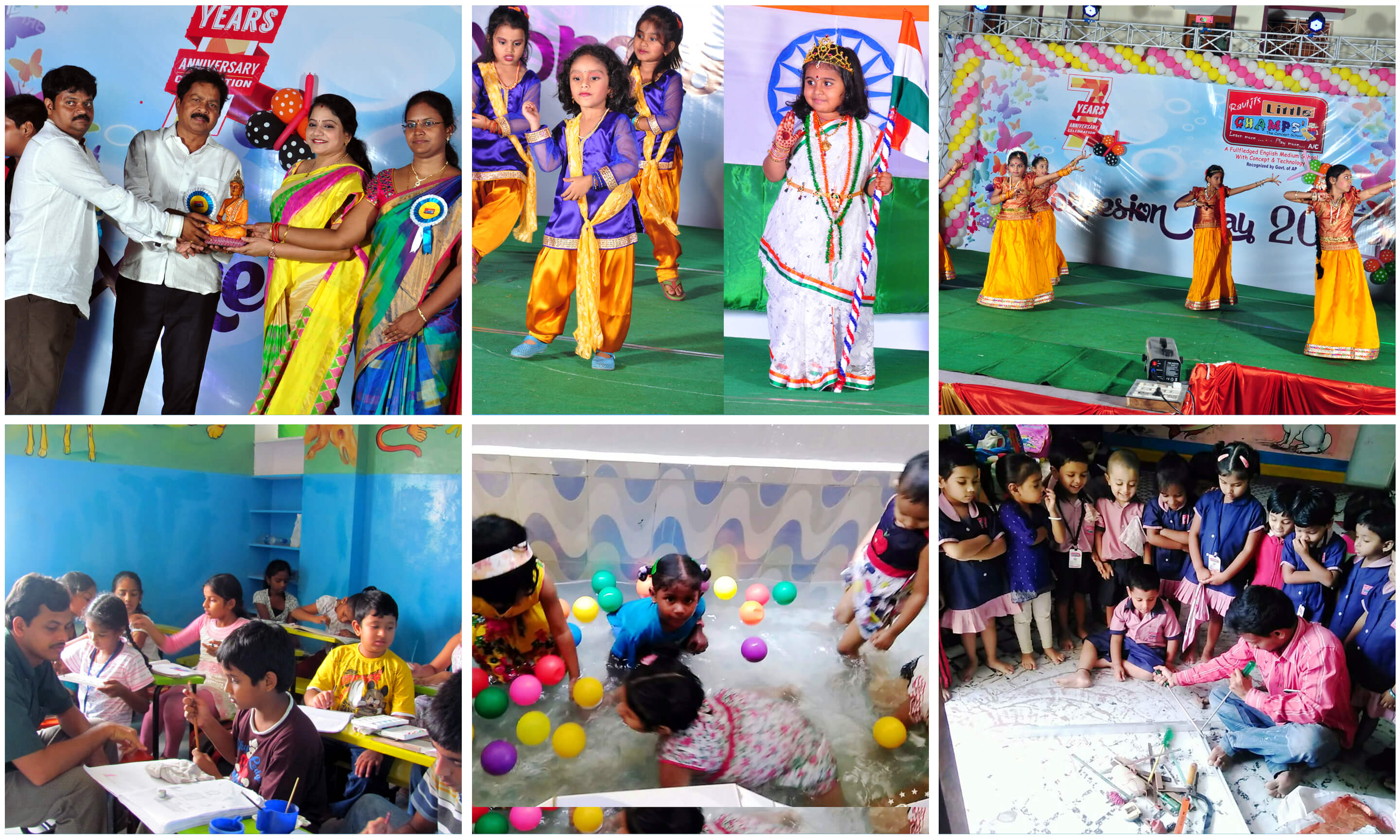 About Little Champs Concept School:
Little Champs Concept School is a full-fledged English medium school with concept & technology.
Services:-
1. Half Day & Full day option available.
2. Pre-school an Private Kindergarten Programs.
3. Fields Trips and fun Educational Activities.
4. Yoga & Dance Classes.
5. Special offer for first 15 students.
Facility:-
All our staff includes qualified teachers and will ensure your child will be in safe hands of our trained and experienced staff as committed to providing a nurturing and safe learning environment to young ones.
We care about your child:-
Raviji's Little Champs have a peace of mind knowing that your child is receiving quality care as well as a wonderful learning experience. Parents feel safer learning of their kids under the supervision of dedicated and caring staff.
Features:-
1. Air-conditioned Classrooms
2. Dedicated teaching staff.
3. Extracurricular activities (viz. Art & Craft, Drawing, Yoga, Meditation)
4. Creative hours to bring out learned talents.
5. Integrated learning with K-yan introduction at primary level for the first time.
6. Kindergarten 1:25 (Teacher: Pupil ratio)
7. Montessori trained teachers for pre-primary to emphasize an interactive learning with toys.
8. Specially designed classrooms for LKG, UKG, and Primary makes the atmosphere lively every day with plasma TV as an audio-visual aid, Confidence through communication skills.
Smart Class facilitates dynamic learning with full collaboration between the teacher and the student.
Raviji's Little Champs Concept School
Central Office : Near Ganesh Temple, 48A Last Bus stop, Madhavadhara, VUDA Colony, Visakhapatnam.
Phone : 996680 22238, 99660 22238, 98851 51410.
Branch Office 1: Besides Vijaya Medical center, Main Road, Gopalapatnam, Visakhapatnam.
Phone: 88867022238,
Email: littlechampsschool@gmail.com
Branch Office 2: Indian bank Street, Sujatha Nagar, Visakhapatnam.
Phone: 99660 22238, 97052 22238.
Category : Play Schools in Vizag
Opening Hours :
| | |
| --- | --- |
| Sunday | 09:00AM–05:30PM |
| Monday | 09:00AM–05:30PM |
| Tuesday | 09:00AM–05:30PM |
| Wednesday | 09:00AM–05:30PM |
| Thursday | 09:00AM–05:30PM |
| Friday | 09:00AM–05:30PM |
| Saturday | 09:00AM–05:30PM |