About DPS Kids Play School:-
The child is the most precious for every parent in this world, DPS Kids Play School is a place where the child tries and learns to leave the home, the parents and begins his new world.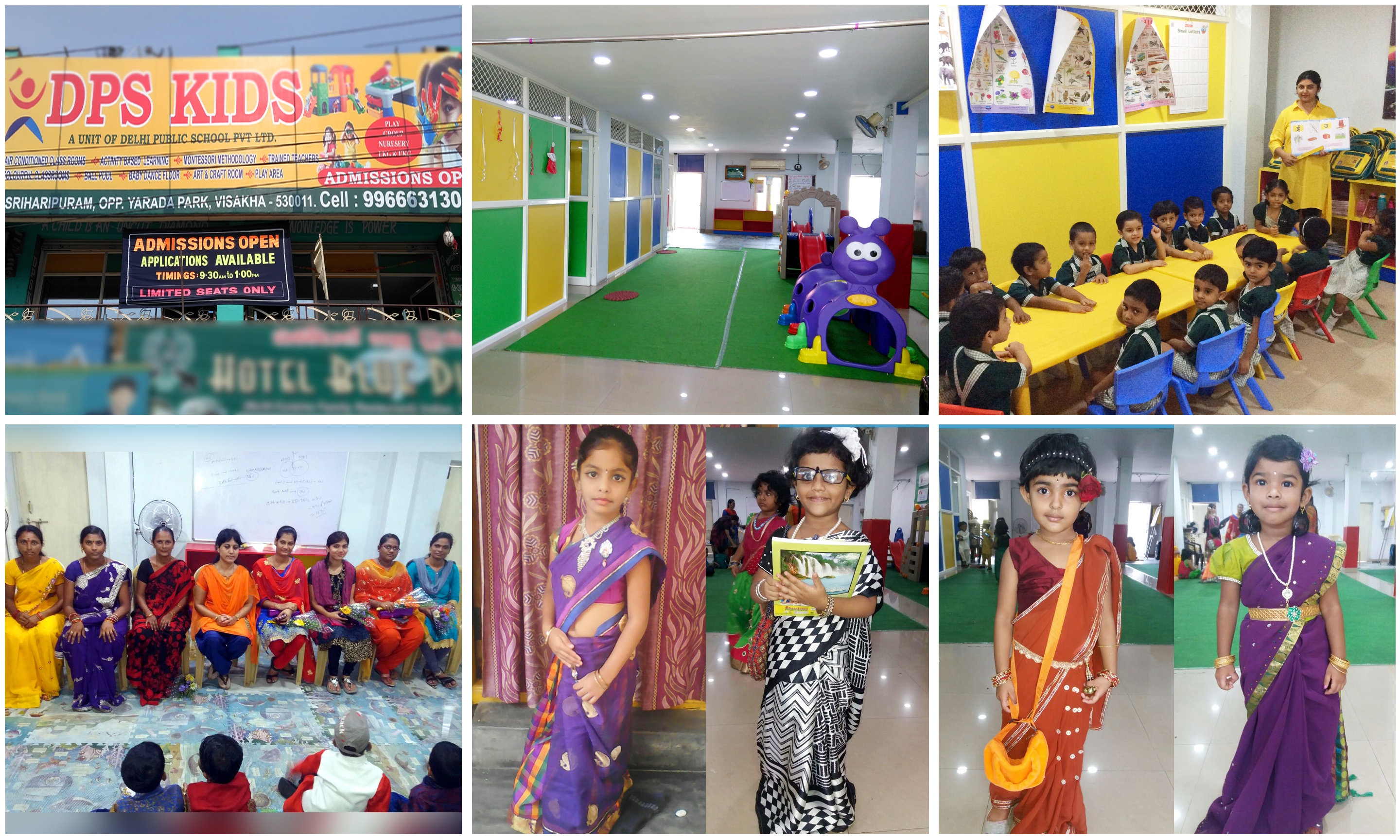 With a unique, one of its kind concept, DPS KIDS is a place where children groom as they play, listen and learn. Here, they move from dependence to independence, from shaky coordination to refined abilities, from body language to verbal communication, from self-absorption to social consciousness.
Others call it Fun School; We call it DPS KIDS the chain of preschools that believes in the enlightenment of the children by entertaining them. DPS KIDS does not look like a preschool, but rather like a KID sky.
DPS KIDS offers you a unique opportunity to be a part of these glorious years and to see the transformation of troubled children into young and self-confident children who are ready to highlight themselves.
DPS KIDS offers an age group of 1.5 to 5.5 years old children and offers the best of Montessori Play way and Gurukul methods of education. At DPS KIDS, we believe in children who are all-rounder who can use their 5 senses effectively by enjoying, exploring and gaining new insights. DPS KIDS ensures a round development of the child and exposes it to many aspects of life.
We would like to offer the children in India, the same world-class quality and international education standards enjoyed by millions of families all over the world.
Features:
Air-conditioned Class Rooms
Activity Based Learning
Montessori Methodology
Trained teachers
Colorful Class Rooms
Ball Pool
Baby Dance Floor
Art & Craft Room & Play Area
Our goal:
Our goal is to help boys and girls during their impressive years of education, the stress on character building, teamwork, esprit-de-corps, physical development and infuse into them a spirit of adventure, fair play and justice
We want: Develop among our students a sense of pride in Indian culture and produce the citizens will be truly Indian and will be on social, communal, religious or provincial prejudices.
DPS Kids Play School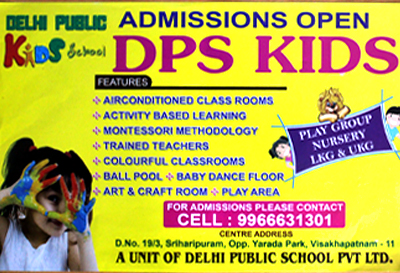 Address: D.No:19/3, Sriharipuram, Opp.Yarada Park, Sriharipuram, Visakhapatnam, Andhra Pradesh, 530011
Phone Number: +(91)-9966631301
Email: dpskidsgwk@gmail.com
Category : Play Schools in Vizag
Opening Hours :
| | |
| --- | --- |
| Monday | 09:00AM–12:30PM |
| Tuesday | 09:00AM–12:30PM |
| Wednesday | 09:00AM–12:30PM |
| Thursday | 09:00AM–12:30PM |
| Friday | 09:00AM–12:30PM |
<!– address section end→